MECHANICAL MODERNIZATIONS
MAXIMUM AVAILABILITY, HIGH PRODUCTIVITY AND OPERATIONAL SAFETY FOR OLDER MECHANICAL PRESSES OF ALL BRANDS.
Challenges of working with older presses. Older presses can often only be used to a limited extent as they are prone to repeated errors and malfunctions due to outdated control systems. This makes smooth manufacturing processes impossible and prevents efficient production. Additional costs and often significant loss of productivity are the consequences. The availability of spare parts for individual control components is frequently no longer guaranteed in many cases. Even the failure of smaller components can therefore threaten lengthy downtime.
The right solutions for your needs. With its modern control technology, Schuler's Compact Control system ensures high productivity and uninterrupted operation – thus securing the availability of your press at all times. Since Schuler's Compact Control uses the latest industry standard, the availability of spare parts is assured for many years to come. Compliance with the most recent safety regulations also means a significant increase in the safety of your staff.
OUR SERVICES FOR YOU.
Schuler's Compact Control is available immediately and can be used with a wide variety of presses. Thanks to its standardized set-up, it can be easily connected to your production equipment. This minimizes downtime during installation. A further benefit is that your machine's existing sensors and actuators can still be used after the retrofit. With the aid of a touch display and intuitive navigation, the new safety SPS also makes machine operation easier.
Areas of use:
'For all C-frame presses with hydraulic or pneumatic clutch / brake
Can also be used as the basis for other presses as part of an extensive retrofit
For manual loading and / or automation
With two-hand control console and / or foot switch
Main drive conventional direct / star-delta start up to 15kW; optional: variable-speed
Options:
'Control and monitoring of existing automatic lubrication system
Control of existing slide adjustment with stroke end control and temperature monitoring of the displacement motor
Control of auxiliary brake
3 piece counters
Inclusion of up to 4 safety devices electrically monitored (2-channel) and one controlled protective device (customer hardware)
Safe external interfaces for emergency-stop and protected areas
Inclusion / monitoring of press safety valve
Inclusion of existing hydraulic overload protection
Stands for 2-hand switch and/or operating panel
Plug socket for foot switch
PSV valve (2-channel)
Error message on display
Scope of delivery:
'Switching cabinet with cable (length 10 m)
 Safety SPS
Two-hand control console including plug
'Operating panel with touch display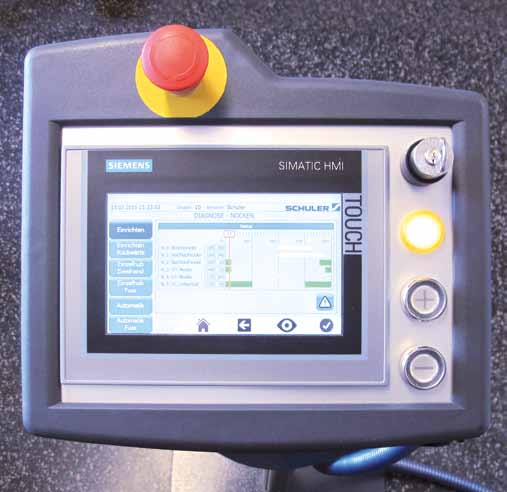 BCN Technical Services, Inc.
1004 E State St
Hastings, MI 49058
269-948-3300
Hours of Operation
Monday–Friday: 8 a.m.–5 p.m.
Saturday–Sunday: Closed